Happy Monday, Full Scope Trader!
This week, I'll be covering:
Will Thanksgiving Week Be A Historically Good Week Again?
IBM – From 0.56 To 2.20, OVERNIGHT!
AAPL – From 0.42 to 0.90, IN 39 MINUTES!
I Don't Trust the Homebuilder Rally 
Ohhhhh, it's Turkey Week everybody!
And while past performance is never an indication of future returns, I thought today would be a good day to start with a little history lesson about trading during Thanksgiving week.
You see, something interesting happens around big holidays…large Wall Street trading desks are usually staffed by skeleton crews.
This results in a lot of the typical institutional forces being absent from the market. And that's why I LOVE trading this week!
Again, there is NO GUARANTEE that the positive returns that usually occur over Thanksgiving week will occur this year, but it is certainly interesting to look at.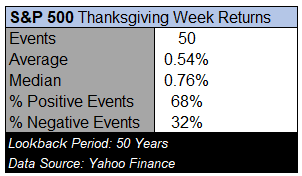 Oh, and did I mention that this coming week's economic calendar is relatively light?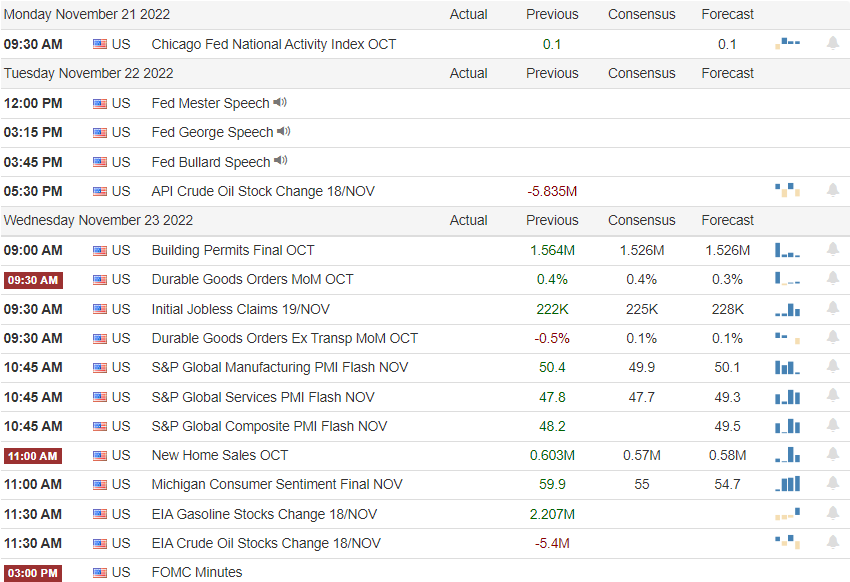 Given that the day after Thanksgiving tends to be one of the most thinly traded days of the year, there is the potential for some pretty wide price swings.
And that's why, next Friday, Ethan and I are going to be LIVE ALL DAY for my LottoX and Mobile Closer members.
We'll be teaching these lucky folks, retail traders just like YOU, the following:
How we prepare for each trading day, both technically and mentally

How we read the market's MANY key breadth and cross-market signals

How we choose the right options to match EVERY market condition

How we time our entries

How we manage each trade
And the BEST part? 
We'll be revealing the HUGE bet that Ethan and I have coming up. 
Friends, it's going to be EPIC…but time is running out for you to be able to attend.
Have questions before the event? 
JUST CALL DREW: 443-218-2831.
Be sure to keep reading to find out which options contracts my CUSTOM SCANNERS are telling me to watch this week. 

Friends, the EXPLOSIVE moves keep coming after my LIVE LottoX 0-DTE Sessions. Here is a small taste of what my partner Ethan Harms and I were serving up in this past Thursday's session.
Remember, these are just 2 examples:
IBM Long
Contract: $146
We said, "IBM's getting close to a key level at $146, and Ben thinks this stock is a great candidate for a move higher. These are trading around $.56."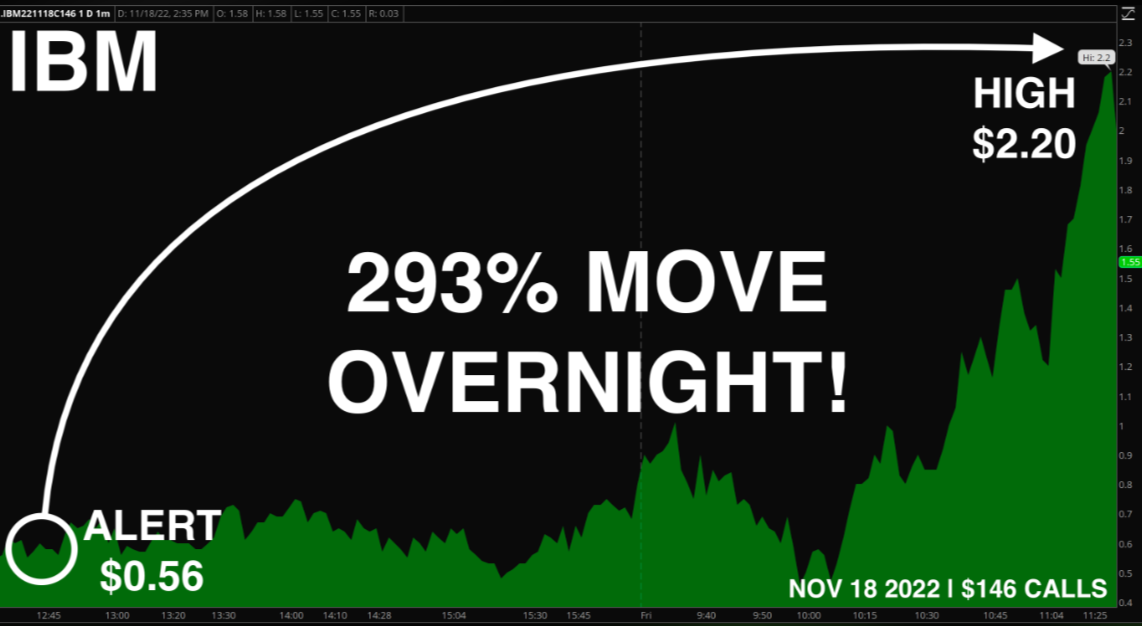 BOOM! The contract saw explosive price movement, jumping as much as +293% OVERNIGHT!
AAPL Long
Contract: $152.50
We said, "Ben sees this market-proxy outperforming, with strong unusual options activity, and thinks it could rip higher. These are trading around $.42."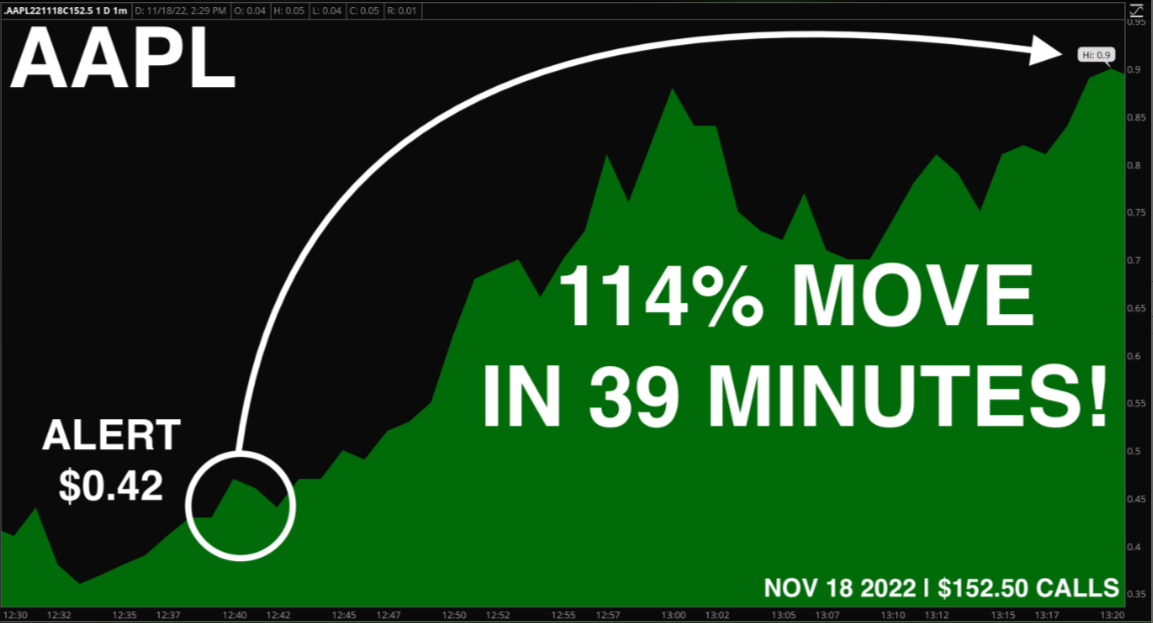 SHAZAM! The contract ran 114% IN JUST 39 MINUTES!
This throwback came from Thursday's LottoX Live session. 
Okay, that's enough looking back…because as much as I hope these helped you find some winning trade ideas, I want to talk about what's cooking now in the Fat Cat Kitchen…

Homebuilder Rally Looks To Be On Thin Ice
The price for random length lumber futures took an epic dive this year for a number of reasons.
What initially drove this year's early spike in lumber prices was the demand for housing coming out of the COVID crisis. And the related problems of getting the labor needed to run the saw mills didn't help either.
But then the Fed's war on inflation sent borrowing costs for potential home buyers through the roof, causing traders to speculate that this would eventually drive down demand for housing and lumber. 
They were right, and now lumber futures are still struggling to find buyers.
At the same time, though, the homebuilders (XHB) have been rallying of late.
When looking at the historical comparison of the two on the chart above, however, you'll see that lumber is usually the leader in this relationship.
And right now the XHB is rallying WITHOUT any support or leadership from lumber.
All of this gets me very interested in what the smart money is doing in this sector at this time? '
And MAN OH MAN do I have the right tool for it.
Just last week I used my Unusual Options Scanner to find where the LARGE options flows were going, and it found TJX for me.
As this next screenshot shows,someone bought 1.21 million dollars in the TJX Dec 16 $80 calls at $1.75 when I was using this scanner on Wednesday. 
These calls went up to $2.25 by the end of the day.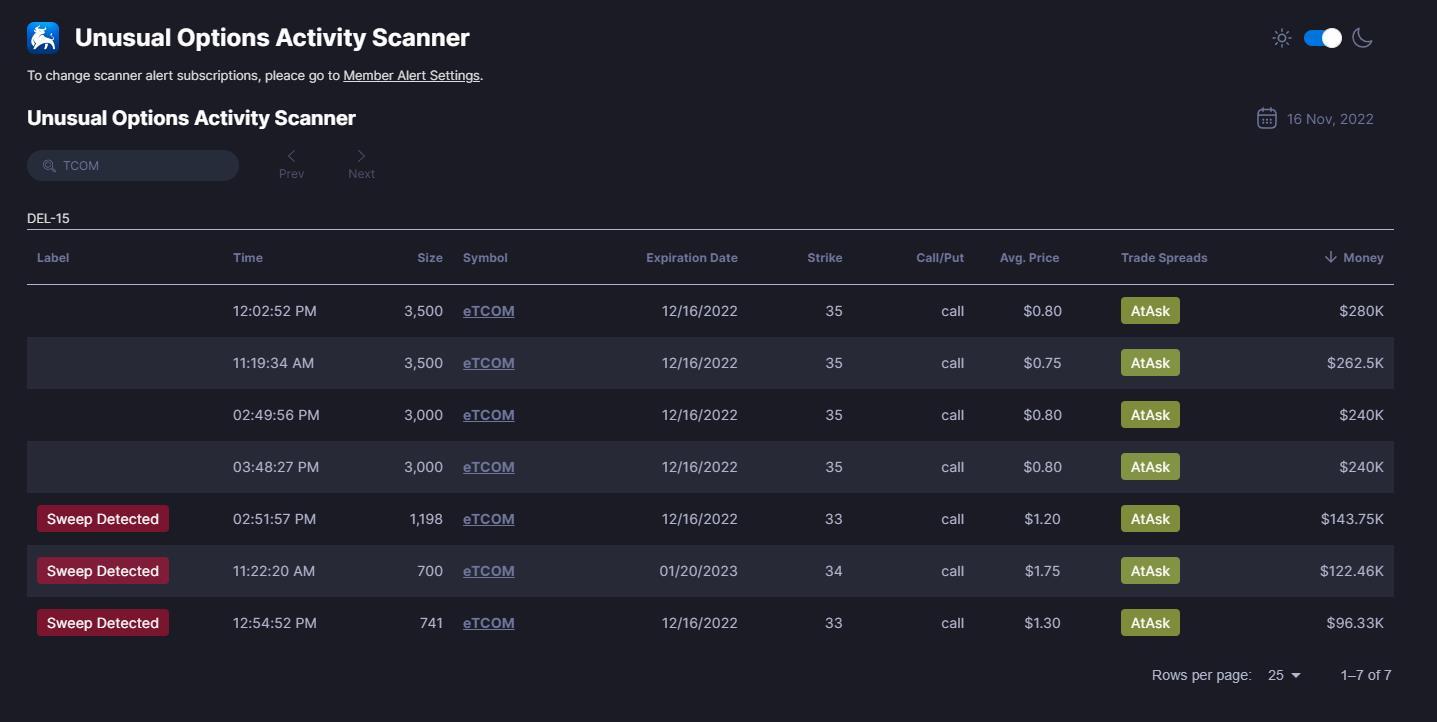 This is the kind of Actionable Intelligence that I'll be using this scanner for over the coming weeks to search for evidence that the Smart Money is taking bearish positions in the homebuilder sector. 
And since XBH's volatility has risen back to historically high levels in recent weeks (see ATR on top panel of chart below),  I'll be looking to use a special options strategy – a Bear Put Spread –  that will help reduce the cost of buying puts.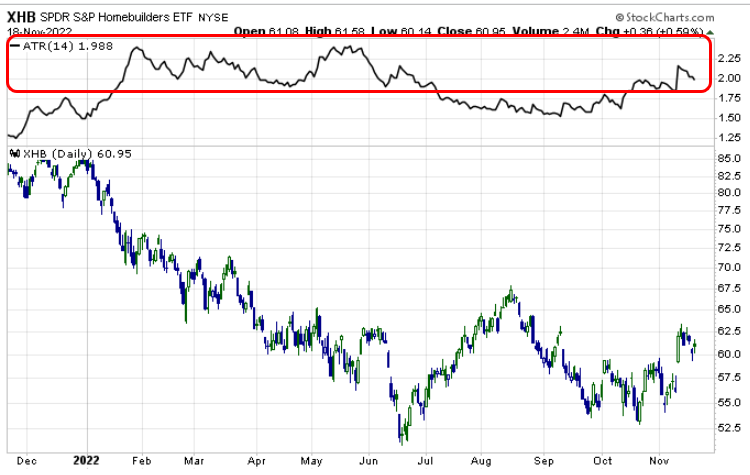 Folks, this is one of the easiest multi-leg options strategies to learn, and I hope you'll come join me here this week to learn how I've used this awesome strategy over my long trading career.
If you want to ask some questions about how my Unusual Options Scanner can help you in your trading, simple CALL DREW: 443-218-2831.
Let's have a great rest of the week and until next time!