Snow began falling in Buffalo and other parts of New York state Thursday as the area braced for a major winter storm that could bring as much as 4 feet of snow to the city.
Buffalo declared a state of emergency, and New York Gov. Kathy Hochul did the same for 11 counties in the western and northwestern part of the state near Lake Erie and Lake Ontario.
Erie County, home to Buffalo, issued a driving ban.
"Only those authorized for emergency travel are to drive," County Executive Mark Poloncarz tweeted, adding it would be re-evaluated Friday.
"Overall, it's going to be a lot of snow that hits our area," Buffalo Commissioner of Public Works Nathan Marton said. He said the snow at times could be "overwhelming, from a visibility standpoint."
The heaviest snow for the Buffalo area was expected Thursday night through Friday night, the weather service said, when snow could fall at a rate of more than 3 inches per hour.
"This is a life-threatening storm," Hochul, the governor, said at a news conference, adding that state officials were prepared to conduct rescues.
Commercial traffic was banned on portions of some major state roads, including the New York State Thruway, also known as Interstate 90. Sunday's NFL game between the home team Buffalo Bills and the Cleveland Browns was moved to Detroit.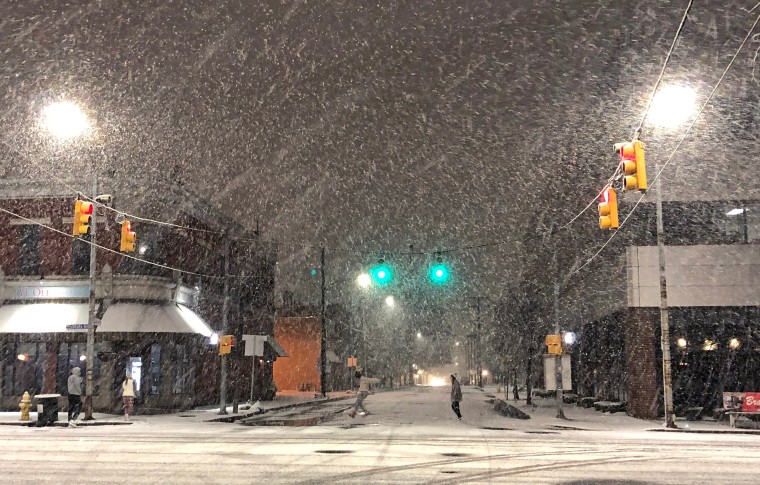 Buffalo could get up to 4 feet of snow through Sunday, the National Weather Service said. A lake-effect snow warning was in effect for the region through Sunday.
The weather service said the lake effect snow could be "paralyzing" and said "travel will be very difficult to impossible."
Lake-effect snow occurs when arctic air races across the relatively milder waters of the Great Lakes.
The area could also see thunder along with snow, sometimes called "thundersnow."  Heavy snow punctuated by thunder and lightning moved into Buffalo on Thursday, quickly covering the ground and roads, The Associated Press reported.
Power outages began Thursday night, and with an expected wet, heavy snow more power outages were expected, Poloncarz, the Erie County executive, said.
He urged people to use generators safely, as carbon monoxide can be deadly. They should never be used inside, and should not be used in a garage, even with the door open, he said.
Poloncarz said Thursday night that most people seemed to be staying off the roads, and there had been few accidents reported.
In November 2014, Buffalo and far western New York was hit by two waves of lake-effect snow that in total dumped more than 7 feet in some areas.
Thirteen people died, roofs collapsed, and thousands of motorists were stranded, according to a weather service report about the winter event.
Temperatures are also expected to dip in the United States as an arctic blast is forecast to bring the coldest air of the season. 
Much of the country will feel below-average temperatures Thursday, lasting into the weekend. 
The cold arctic air mass will lead to the first freeze for some large metropolitan areas, such as Atlanta and Washington, D.C., and the first dangerously cold wind chills of the season for places, such as Chicago and New York.
Marlene Lenthang contributed.