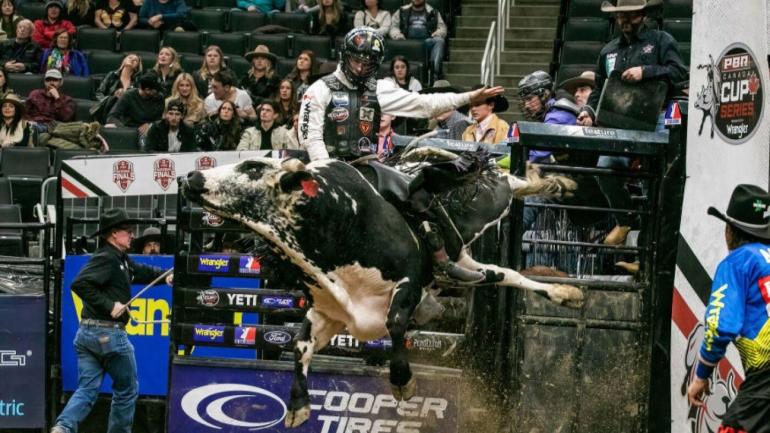 Getty Images
A new PBR season is starting this weekend as the top 30 riders in the world participate in the Monster Energy Invitational individual competition from Nov. 26-27 at the Tucson Arena in Tucson, Ariz. 
The action will begin with Round 1 at 8:45 p.m. ET on Saturday. Round 2 and the championship round will begin Sunday at 3:45 p.m. ET.  After the first two events, the 12 riders with the top combined scores will advance to the championship round. 
This will be the first time Tucson Arena hosts a PBR competition since 2017. The seven-month individual season will include 24 events and multiple cities, including New York City, Chicago and Los Angeles. The 2023 PBR World Finals: Unleash The Beast will take place May 12-21 in Fort Worth, Texas at Dickies Arena.
Last season's champion was 23-year-old Daylon Swearingen from Piffard, N.Y. He is currently the world No. 1. Before claiming the title, Swearingen was the underdog competing against tough opponents such as two-time World Champion Jose Vitor Leme, 2018 World Champion Kaique Pacheco and world title contender Joao Ricardo Vieira. 
Round 1 will be exclusively on RidePass on Pluto TV on Saturday at 8:45 p.m. ET.
PBR released the complete 2023 Unleash The Beast qualifiers last week. See below for a full list of the qualifiers and more information on how to watch:
TV, streaming schedule
Full list of 2023 Unleash The Beast qualifiers
Jose Vitor Leme (World Champion)
Daylon Swearingen (World Champion)
Kaique Pacheco (World Champion)
Cooper Davis (World Champion)
Ednei Caminhas (World Champion)
Silvano Alves (World Champion)
Jess Lockwood (World Champion)
Marcus Mast (Team Standings)
Luciano de Castro (Team Standings)
Derek Kolbaba (Team Standings)
Adriano Salgado (Team Standings)
Mason Taylor (Team Standings)
Eduardo Aparecido (Team Standings)
Alisson de Souza (Team Standings)
Andrew Alvidrez (Team Standings)
Dalton Kasel (Team Standings)
Ramon de Lima (Team Standings)
Cody Jesus (Team Standings)
Joao Ricardo Vieira (Team Standings)
Daniel Keeping (Team Standings)
Lucas Divino (Team Standings)
Boudreaux Campbell (Team Standings)
Keyshawn Whitehorse (Challenger Series Championship Standings)
Sandro Batista (Challenger Series Championship Standings)
Wyatt Rogers (Challenger Series Championship Standings)
Rafael Jose de Brito (Challenger Series Championship Standings)
Jesse Petri (Challenger Series Championship Standings)
Mauricio Moreira (Top 2 from 2022 world standings not qualified)
Eli Vastbinder (Top 2 from 2022 world standings not qualified)
Joao Henrique Lucas (Nashville Stampede)
Braidy Randolph (Texas Rattlers)
Briggs Madsen (Oklahoma Freedom)
Colten Fritzlan (Missouri Thunder)
Koltin Hevalow (Kansas City Outlaws)
Wingson da Silva (Carolina Cowboys)
Dakota Louis (Austin Gamblers)
Vitor Losnake (Arizona Ridge Riders)
Bob Mitchell (Up to an additional 10 Team Standings)
Ezekiel Mitchell (Up to an additional 10 Team Standings)
Rafael Henrique dos Santos (Up to an additional 10 Team Standings)